Steam Guide Foundation Course
With Boris Ryabov and Sasha Baibarin
September 10 - 19, 2021
The purpose of the program:
Steam Guides are the carriers of the culture of steam healing. Becoming a Steam Guide marks the transition from enjoying the steam to entering the path of knowledge, discovering the inner structure of the work, and opening the doors to the traditions of steam. The Foundation program establishes the basic skills and understanding of the thermal space and practice. Successful completion of the program means that the practitioner is able to safely conduct a thermal session for a guest by themselves. 
Time and dates:
Aug, 20 – 22, 27 – 29, 2021, 10am – 5pm.
Overall layout of the program:
The Foundation program consists of 6 daily workshops, approximately 36h in total, and 20h of subsequent supervised practice. The 36 hrs are completed with an exam where we test the student's proficiency. If the student successfully passes the exam they become certified as a Steam Guide by Steamology Institute, conditional upon completing further 20h of supervised practice. Exams can be retaken, if needed. A certified Steam Guide is eligible for the Steam Guide Advanced program modules on herbal studies, in-depth individual programs, group session programs, etc.
Every workshop day takes 6h (normally 10am – 5pm with small breaks) with an in-person group setting split between theory, skill development, contemplation & sensory development, and thermal practice. All 6 workshop days are indispensable to be admitted to the exam. 
Learning outcomes:
Every workshop deals with several layers of perception and skills relevant to each of them:
Individual perception and skills ('I')

Heat/cold related stress and safety 

Body perception (heat, tactile)

Mind states in the thermal space

Stamina and vigour

Dealing with another human being ('YOU')

Therapeutic contact

Veniki work (delivered as a Form)

Dealing with thermal / ceremonial space ('WE')

Cycle of opening/operation/closing

Sensing and managing collective dynamics
Workshop outline, day by day:
Day 1: SPACE
We discover the dimensions of the space of steam and make the first movement.
Theory: a brief history of thermal space; overall understanding of effects of heat/steam on the human body and mind; dimensions of space. 
Contemplation: discovering perception and dynamics of space, body, and mind in thermal space. 
Practice: approaching space, steam, veniki, and the guest. Discover contactless movements.
Day 2: AIR
We discover steam, microclimate, breathing within the thermal space; movement becomes sequence.
Theory: Microclimates of the thermal space. Respiratory and cardiovascular system effects. Approaching herbs.
Contemplation: Breathing, Four movements
Practice: Four basic movements and axial sequence.
Day 3: WATER
We discover water in thermal space and in the body, cleansing and fluidity; sequence becomes flow.
Theory: Fluidics of the body; circulatory systems; acidity; sweat. 
Contemplation: Cleansing and fluidization; Salty/pure water/infused steam; Dream.
Practice: Cleansing; Connecting sequence to a flow; approaching vectors.
Day 4: EARTH
We discover depth and gravity, layers of the body; flow becomes strategy.
Theory: Solid structures (including fascia) and heat/steam effects; introducing points and meridians.  
Contemplation: Tensions and topical work.
Practice: Full sequence enhanced by accents; Heating the feet.
Day 5: FIRE
Now we better understand heat; strategy obtains power.
Theory: Theory of heat/contrast; intracellular heat; nervous system in thermal space; thermoregulation levels; comprehending heat in general.
Contemplation: Levels of heat; discovery of trance; discovery of contrast.
Practice: Full sequence enhanced by contrast work.
Day 6: INTEGRATION and EXAM
We learn about ethics and safety, integrate the knowledge, and take the exam.
Theory: Health of the practitioner, safety in the thermal space, ethics, integrating days 1-6. 
Contemplation: Integrating the elements.
Practice: Full sequence, Q&A.
Exam
Leaders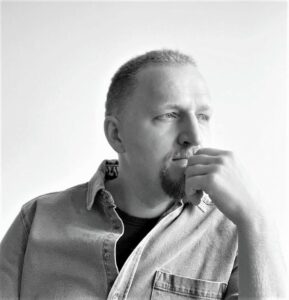 Boris Ryabov
Boris Ryabov is a co-founder of Steamology Institute, practitioner and teacher of Russian banya and contemporary steam practices, apprentice of South American traditional healing practices in Shipibo lineage for 10 years.
Learn more about Boris Ryabov